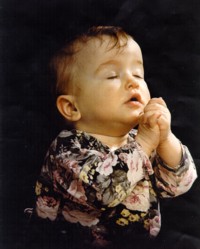 I was 23 when I drove home our brand new mini-van. As you men reading this blog can imagine, this was a tough ride home. Nothing quite says "macho" like a Dodge Grand Caravan. But if I knew then, what I know now, I would have had a much different outlook on the experience. I understand now that a kid-moving vehicle like that should come with a Purple Heart.

My daughter broke her arm this last weekend and had a metal pin surgically inserted. She's ok now, a little uncomfortable but well on the road to recovery. But as my wife held her down and they tried to start the IV for the second time, and as I sat by her bed the whole night praying the rosary stroking her head when she would stir, I thought about what having kids really meant.

I began to think about how a friend once told me of his diabetic son looking up at him while he gave the little guy an injection and heard the tearful plea, "Daddy, please don't hurt me again." Or how some other friends, who desperately wanted another child, were crushed to find that they had once again miscarried. I thought about a couple I know whose little boy died at a young age from a disease that couldn't be stopped. Or the friends I have whose child is being picked on at school. I thought of the parents I know whose kids are in trouble with the law and those whose kids no longer come around.

I think about the sleepless nights, the diaper changing, the fighting with siblings, the scrapes, the bruises, the mischief, the homework, the sports, the peer pressure, the stress, the eventual leaving.

Late in the night at the hospital, in a moment of general fatigue I began to think, "With all this pain, with all these troubles, why have kids at all?"

It's kind of funny and kind of sad how strong we can be when things are going well and how shaken and weak we can be when they're not. But the more I thought about it, the more I formed an answer I could live with.

I am naturally a very prideful and selfish person. I need nothing other than to kneel down at night and look back at my day to convince myself of that. But I know that's just the opposite of what God wants of me. We're called to be Christ-like, to lead a joyful Eucharistic life. We're called to unselfishly love God with all our heart, soul, and mind, and to love our neighbor as ourselves. To give to others freely what has been given to us freely; things like forgiveness, peace, love, joy, and so importantly life. But how do we get to this point?

Marriage, and therefore parenting for most, is the vocational forge our lives have been placed in. God wants to form us into images of Christ, but we naturally resist. In order to soften us up so He can work on us, he sometimes needs to turn up the heat. For a priest this may mean dealing with loneliness or difficult parishioners (sorry Father), for the married with children this often takes the form of children. When we are soft and malleable He can begin to bend and form us into a tool that He can work with.

So how does having children soften us up? How does putting up with hardships of parenting when we could "choose" not to help? It gives us the opportunity to freely, lovingly, and openly accept the gifts from God that are our children. It allows us to willing set aside selfish ambitions and place God's will and glory above our own. In it we able to, in a very real and Christ-like way, sacrifice our own lives for our children.

Though this we are allowed by God to take part in the building of His kingdom. To take part in the creating of life, and to be entrusted with leading these children down the path to eternal life itself. It's so easy today to lose our understanding of what life is, and what a blessing it is that we are able to cooperate with God in its creation.

Remember when you found out you were pregnant? When you heard the heartbeat? When you saw the ultrasound or felt the kick? When you saw them for the first time and held them close? When they rolled over, crawled, or took their first steps? How about when they used the potty chair for the first time? Remember sending them off to their first day of school or off on their first date? Remember their graduation and their moving away? Remember when you found out that they had decided to spend the rest of their life with someone they loved? Remember when you found out they had decided to start the whole beautiful process again and bring a new life into this world? It's easy to complain about and try to avoid the difficult times, but do we forget to cherish the treasures that also come with the territory?

Every moment, good or bad, is an opportunity for us to shift the object of our love from ourselves to another. This serves to chip away at our self-centeredness, and conform our will to God's. And yes, sometimes we fail miserably. But our effort tells God, ourselves, and our children something about who we are and who we want to be.

Sure there are times that are a little rough, and times that are just plain tough. Moments that range from annoying to tragic. But in the end, we have been called by God to find a path to Holiness that leads through our children. Just as we make our children do things they may not want for their own good and that we love them, why would we think God our Father would have it any other way for His children?

Having kids is NOT for sissies!!! It can be tough and painful. It's not a race quickly won once-for-all, it's more like a marathon. It's an everyday thing, filled with the good and the bad and everything in between. A battle fought as much on our knees as it is on our feet. But I thank God that He has given us all the grace we'll need to complete the task he has called us to do. And oh what a beautiful task it is. Amen.
P.S. I have since upgraded fram a mini-van to a 12 passenger van, so you can imagine how tough I am now.